The Ohio Bar - Stainless Steel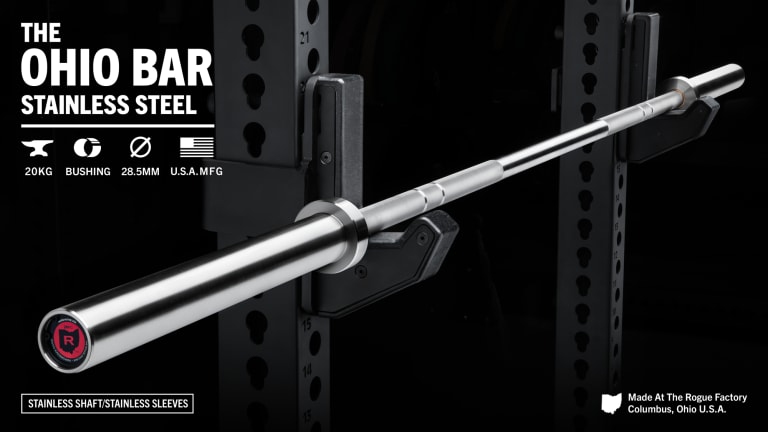 The Ohio Bar - Stainless Steel
Product Description
The new stainless steel version of our 20KG Rogue Ohio Bar is machined and assembled in Columbus, Ohio, and features a 200,000 PSI tensile strength shaft, chrome sleeves, and an exclusive Rogue knurl pattern that's 100% in its original, machined form for an unmatched feel.
Read More
The Ohio Bar - Stainless Steel
The stainless steel version of our 20KG Rogue Ohio Bar is machined and assembled in Columbus, Ohio, and features a 200,000 PSI tensile strength shaft with an exclusive Rogue knurl pattern that's 100% in its original, machined form for an unmatched feel.
Along with the firm but non-abrasive grip, the Stainless Steel Ohio Bar's dual knurl marks optimize it for both Olympic lifts and Powerlifting—with the quality US steel and precision bronze bushings ensuring a smooth, consistent spin + a unique balance of whip and rigidity.
Like all of our bars bearing the "Ohio" name, we think this design represents more than just the Rogue brand. It's a testament to where we work, who we are, and the pride we feel in making the best high-performance barbells in the industry.
Note on Stainless Steel: Barbells made from raw steel are not plated and therefore marks from the machining process may be visible.
Browse More Ohio Bar Options:
Gear Specs
Specifications
Manufactured in Columbus, OH
Diameter: 28.5MM
Weight: 20KG
Stainless Steel Shaft, Stainless Steel Sleeves
Dual Knurl Marks for Oly and Power lifts
No Center Knurl
F-Scale Rating: F10-R
200,000 PSI Tensile Strength Steel
Bronze Bushings for Reliable Spin
16.40" loadable sleeve length
Rogue branded endcaps
Shipping
Rogue Fast Shipping
The Rogue Shipping System allows you to track your order from the time you place it to the time it hits your door. Order today, track today.
Gear Specs

Brand
Rogue Fitness
Color
Stainless Steel
Guarantee/Warranty
Lifetime Warranty*
Made In USA
Yes
Loadable Sleeve Length
16.40"
Bar Length
86.75"
Diameter
28.5MM
F Rating™
F10-R
Bar Type
Men's Bars
Bar Use
Multipurpose
Bushing/Bearing
Bushing
Bar Weight
20KG
Knurl
Multi
Center Knurl
No
Knurl Mark
Dual
Shaft Coating
Stainless Steel
Sleeve Coating
Stainless Steel
Tensile Strength
200,000 PSI
KEY FEATURES OF THIS OHIO BAR:
This high tensile strength steel is manufactured in the USA and has proven to be one of the best steel variants for a multi-purpose barbell. Each barbell shaft is ground and polished prior to machining, allowing for a very smooth finish.
Every bar shaft is machined in Columbus, Ohio. A great deal of pride is built into each bar as the knurling process is an art. We spent months working on the knurl we believe to be the best for the Ohio Bar.
To test the knurl it is more a beer tasting process than exact measurement. There is a look and feel that go into testing every bar.
The Look & Feel of Stainless Steel
With no plating, the knurl on the Stainless Steel Ohio Bar is left exactly how we machined it, providing a great feel that cannot be achieved with other finishes. It's similar to the knurl feel from a bare steel shaft, but with better corrosion resistance. The combination of a stainless steel shaft and chrome sleeves also creates a sharp look with few equals. Please Note: Rogue recommends using a synthetic bristle brush, NOT a steel brush, to clean a stainless steel shaft. Steel on steel can cause rusting over time. See more tips here: Bar Care & Maintenance.
The Ohio Bar is assembled with bronze bushings, which act as bearing surfaces between the bar sleeve and bar shaft. This is a very robust way of building a barbell, and can produce a smooth, consistent spin not possible with lesser import bars. Each bar comes with an "Ohio Bar Card" that has the initials of the Rogue team member that built it.
The multi-purpose Ohio Bar will have normal "whip" during Olympic weightlifting and enough stiffness to hold for heavy Powerlifting. The steel in this bar is proven as an excellent choice for weightlifters.
F SCALE™
The F Scale™ is a durability scale for barbells based on functional testing at stresses similar to what barbells experience when being dropped from overhead. Bars that have been treated with Rogue Work Hardening (RWH™) are designated by having an R in their F Rating™. For more information on F Scale™ click here.
OXIDATION RATE
The resistance of a barbell to oxidation depends on the type of steel and the coating. Barbells at the lower end of the spectrum will require more care and maintenance to preserve their appearance than barbells at the upper end of the spectrum.
*Warranty against bending does not cover any bar which has been damaged due to negligent or faulty use, alteration, maintenance, storage or handling by the user. Negligent or faulty use includes abusive dropping of the bar (i.e., dropping the bar on a box, bench, spotter arms or pins in a power rack, excessive dropping with insufficient or damaged bumpers, or excessive dropping with iron plates, and similar usage). Any specific issues regarding a Rogue product with which a customer is not satisfied will be reviewed on a case-by-case basis. We have found that most problems with bars we replace are related to abusive use rather than manufacturing or materials issues.
Whichever barbell finish you choose, Rogue has provided some helpful tips for long term Bar Care & Maintenance.
See More: Men's 20KG Barbells Available from Rogue
Reviews
Lives up to the hype
Having previously only used cheaper bars at commercial gyms, the difference is night and day. Knurling is super grippy but doesn't feel like it's going to rip my hands up doing high volume. Stainless steel feels like it's going to last forever. The very light texture on the sleeves also helps the collars hold the weight on really securely, but still super easy to get weights on and off. Overall very happy with this purchase, and think this bar 100% lives up to the hype.
Yes, I recommend this product
Originally posted on roguefitness.com
Not what I expected from Rogue
Today I received my barbell in the mail and chose the Ohio bar because all of the great things I've heard about it. Was disappointed to see it arrive rusted. This is the second issue I've had with the quality control of their products.
Originally posted on roguefitness.com
Response from Rogue Fitness:
September 5
We're sorry to see how your bar arrived! Our team is looking into this now and will reach out to you via email ASAP.
Not as expected
I bought this bar for myself two years ago, when Rogue offered both stainless sleeves and shaft. It's been inside for more than one of those years and only been in a garage for 10 months and is already starting to rust. I paid a significant premium for this bar and it makes me wonder if this thing is really as advertised.g
Originally posted on roguefitness.com
Response from Rogue Fitness:
July 27
Thank you for bringing this to our attention! Our team is digging into this now and will be reaching out ASAP.
Good hand
This bar feels good in the hand and works really well. Meaning it just does what I want it to do.
Yes, I recommend this product
Originally posted on rogueeurope.eu
Best all around bar, period.
This bar is awesome. I got the Stainless Steel shaft. I use it for CrossFit (w/ Olympic lifting) daily. The knurling is hands down the best I have ever felt. It is very "grippy" due to the dense, tight pattern of the knurling, but it doesn't cut. It gives the benefits of an aggressive knurl pattern without making you pay the price with torn up hands. Stainless Steel gives the best feel and is definitely the way to go. The bushing bearings provide plenty of spin for Oly lifts under most circumstances.
Yes, I recommend this product
Originally posted on roguefitness.com
Chrome is pealing off of sleeves
Poor quality not miss use I hang all my bars i don't stand them on there ends… Makes me sad i love the feel of this bar but the peeling is so sharp afraid it will hurt someone at some point Love RogueFitness really do But i don't expect any help in regards to this problem Really wish I'd have gotten stainless sleeves not chrome
Originally posted on roguefitness.com
Response from Rogue Fitness:
Dec 2022
We are getting you a replacement bar sent out right away. We apologize for the issues here.
Disappointed regarding the processing quality
I got the Ohio Bar in Stainless Steel and expexted not only a great bar to lift with but also a superb bar regarding the processing quality. I used to work with CNC milling and turning machines in Germany and I know what quality management and control means. Therefore I was disappointed to get a bar where quality control has clearly failed. This is nothing that limits the usecase of the bar but something I disagree with regarding the high price of this bar and and it is also disappointing when you consider the quality claim rogue claims to have. In my opinion one has to get a discount for this bar because of poor processing quality. Nothing rogue should be proud of. I also got a SZ Curl bar which is perfectly processed. Should be the case with the Ohio Bar as well.
Originally posted on rogueeurope.eu
Response from Rogue Fitness:
Oct 2022
Thank you for posting and we're sorry for any issues with your bar. Our team is reaching out ASAP!
All stainless the way to go for low maintenance
Good investment, should have picked up sooner. Arrived in 3 days. Solid packaging. Flawless condition, just wipe down. Knurling feels good and enhances grip - can cut back on chalk. Using for deadlifts and overhead lifts.
Yes, I recommend this product
Originally posted on roguefitness.com
#RYOUROGUE
Tag your photos on Instagram and Twitter with #RYOUROGUE for a chance to be featured in our gallery
View Full Gallery