Rogue Bench & Rower Hanger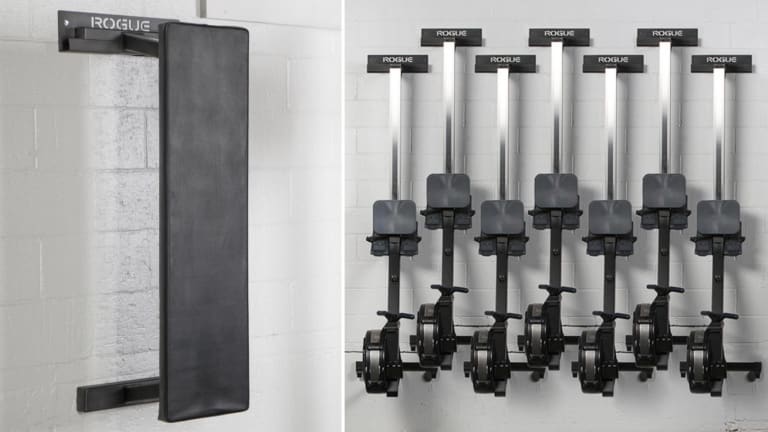 Rogue Bench & Rower Hanger
Gear Specs

Brand
Rogue Fitness
Color
Black
Made In USA
Yes
Length
18"
Width
3 1/8" (Depth) / 2 11/16" (Inside Depth)
Height
5 1/8"
Steel Notes
Laser cut 11-Gauge Steel
Other Product Specs
Mounting holes 16" on center
Product Description
Rogue Bench & Rower Hanger
Convenient Wall-Mounted Storage Bracket
Whether you train in a small garage gym or run a large-scale facility, this heavy-duty, wall-mounted hanger offers a unique new method of space-saving storage, specialized for either a Concept 2 RowErg Rower or Rogue Bolt-Together Utility Bench.*
Made in the USA, from laser-cut 11-gauge steel, the Rogue Rower/Bench Hanger is a formed steel bracket with mounting holes 16" on center. This makes it compatible with most standard stud walls, and allows gym owners to maximize their wall space by mounting two hangers between just three studs (this can be done simply by offsetting the mounting heights). The 16" spacing also allows the back foot of a rowing machine to be easily set in without concern about it getting snagged on the mounting hardware when the unit is removed.
The hanger is finished in our signature textured black powder coat and includes a laser-cut Rogue logo.
Important: Mounting Hardware is NOT included. We recommend using 3/8" hardware for best results.
*The current Rogue Rower/Bench Hanger design is compatible ONLY with the Rogue Flat Utility Bench and Standard Leg Concept 2 RowErg rowers. It will NOT work with our Adjustable or Monster Benches, and we cannot guarantee its compatibility with other models or brands of rowing machine.
Gear Specs
SPECIFICATIONS
Made in the USA
Designed to hold a Concept 2 Model D Rower or Rogue Flat Utility Bench
Laser-Cut 11-gauge formed steel Bracket
Mounting Holes 16" on center
Bracket Weight: 10 LB
Dimensions: 18" Length, 3-1/8" Depth, 2 11/16" Inside Depth, 5-1/8" Height
Laser-Cut Rogue Logo
Color: Black, with textured powder coat finish
3/8" Hardware Recommended (not included)
Mount only to a secure, reinforced wall
Applications: Rowing Machine Storage, Weightlifting Bench Storage
Shipping
Rogue Fast Shipping
The Rogue Shipping System allows you to track your order from the time you place it to the time it hits your door. Order today, track today.
Reviews
More than just your bench!!!!
Use these things for more than just your bench or rower. Great for keeping all sorts of stuff off the ground.
Yes, I recommend this product
Originally posted on roguefitness.com
Outstanding
Outstanding is the highest praise you can give a Marine...or anything else for that matter. And I would have to say this company deserves their reputation on delivering a high quality product.
Yes, I recommend this product
Originally posted on roguefitness.com
Would be nice but...
My house has studs 19.2" on center (that's the little black dot at 19.2" on your tape measure) other houses (especially garages that are not load bearing walls, may have walls with studs 24 inches on center) would be nice if they made a 24 inch option to mount the bench plus an extra prong or 2 for a belt or bands or speed rope etc. And then pre drill holes for 24, 19.2 and 16 inch on center studs so we can have that option to mount anywhere. Guaranteed to sell out! Too bad
Originally posted on roguefitness.com
No hardware
I know it states in the description that the hardware isn't included. Just pretty stupid that it's not included though which would be pretty convenient for loyal and potential customers. Would give 5 stars but since for some reason Rogue doesn't include it, it's just another hassle to go out and get hardware for something that can easily ship with the hardware included so customers can install right away.
Yes, I recommend this product
Originally posted on roguefitness.com
It works.
As with most rogue products, no hardware included so read the fine print. I'm not great at diy stuff but I can hang stuff on studs. Would just like them to add recommended hardware to the packaging. Anyhow it does what it says.
Originally posted on roguefitness.com
More Floor Space!!
Solid hanger, holes 16" on center. Super easy to install. Get some hex head bolts and washers to handle the load. My bench is an FID, not Rogue. But I did the measurements and everything checked out. Fits perfect. My bench weighs 70lb and this mount doesn't flinch!
Yes, I recommend this product
Originally posted on roguefitness.com
Great Product, No Hardware
Cannot for the life of me figure out why they don't include hardware for installation.
Yes, I recommend this product
Originally posted on roguefitness.com
Life saver for storage when not in use!
I use this with the folding bench. Like all of the Rogue products, it's built for the end of time.
Yes, I recommend this product
Originally posted on roguefitness.com
#RYOUROGUE
Tag your photos on Instagram and Twitter with #RYOUROGUE for a chance to be featured in our gallery
View Full Gallery