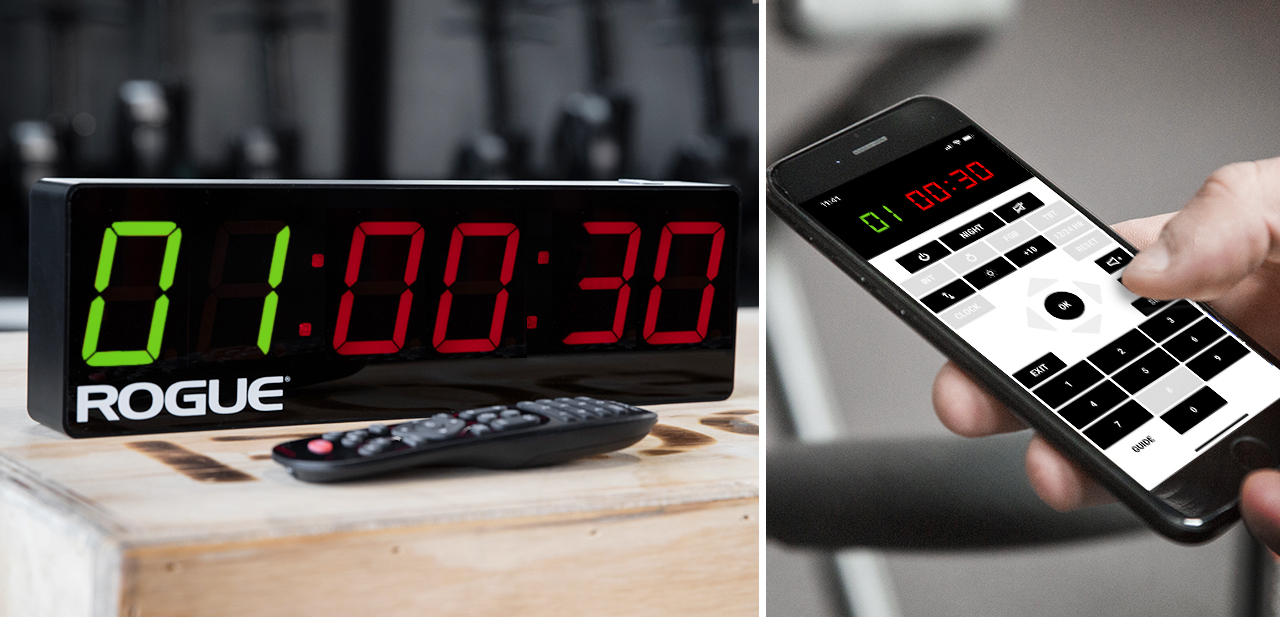 *While the timer doesn't require an outlet when its batteries are charged, we still include a variety of international plug adapters for customers who prefer to connect the unit, virtually anywhere in the world:
Type A (North & Central America, Japan)
Type C (Europe, with the exception of the UK, Ireland, Cyprus and Malta)
Type G (UK, Ireland, Cyprus, Malta, Malaysia, Singapore, Hong Kong)
Type I (Australia, New Zealand, China)
Other Features of the Rogue Home Timer:
Much of the functionality of this timer is carried over from our larger Echo Gym Timer, including:
Crystal Clear LED Display
A Remote Control for convenient pausing/re-programming
Popular Pre-Set Timer Modes like Tabata and FGB
Create and Save Custom Intervals (up to 10 at a time)
1/100 second stopwatch
In-Depth Programming Instructions
Black Frame and Screen with Rogue logo in bottom left corner
Specifications:
Length 13"
Width 1-5/8" (depth)
Height 4"
Weight 1.57 LBS
Cord Length: 58"
Color: Black
Warranty: Timer = 18 months, Batteries = 12 months
Gear Specs
| | |
| --- | --- |
| Brand | Rogue Fitness |
| Made In USA | No |
| Color | Black |
| Product Weight | 1.57LB |
| Length | 13" |
| Width | 1-5/8" (depth) |
| Height | 4" |
| Other Product Specs | Cord Length - 58" |
1

Connecting To Your Smartphone

When the Rogue App is opened and Bluetooth is enabled, your smartphone will automatically detect any nearby Rogue Home Timer for easy pairing. Better still, the Rogue App can store up to 30 different custom, saved workout intervals for you to easily scroll through and select.

While in Timer Setup Mode, the clean user interface enables only relevant buttons for setting up rounds and times. A dedicated Help section also offers guided walkthroughs for setting up and saving Interval, Count-Up, and Countdown timers, as well as button descriptions for clarification.

2

Wall Mounting

The back of the housing for the Home Timer features keyhole-style mounting holes spaced 6.25" on center. Wall mounting hardware is not included, but the lightweight 1.57 LB unit doesn't pose an engineering challenge. The positioning of the USB-C port also ensures that the timer will sit flush against the wall even when connected, or flat on a desk or tabletop if you prefer that option.

3

Fast Rogue Shipping

The Rogue Shipping System allows you to track your order from the time you place it to the time it hits your door. Order today, track today.
Add to Registry

Please choose the registry you want to add this product to:
Rogue Home Timer
is rated out of
5
by
8
.
Rated

4

out of

5
by
MJ Adame
from
Overall nice purchase but some needs improvement
I had been wanting a timer for quite sometime for my garage gym and was on the verge of purchasing the Echo gym timer until I saw Rogue just dropped the Echo home timer. Overall great product, fit and finish is awesome. The only con that I have is that the buzzer needs to be louder. It is impossible to hear and I have to constantly be looking at the timer during tabata, etc.
Date published: 2019-11-28
Rated

4

out of

5
by
Snareman
from
Small, but nice and quiet timer
Overall, I love the timer and would buy it again. The buzzer definitely isn't loud enough, especially as I have it mounted under a speaker. I have to look at it during any kind of internal timing as I can't hear the buzzer or count down timer. It is also pretty small, which isn't necessarily a bad thing and it goes well with my gym. It was just a little smaller than I pictured even though I knew the measurements. It pairs easily with the Rogue app and the included tutorials are easy to use to set up things like internal timers.
Date published: 2019-12-08
Rated

4

out of

5
by
TomR
from
Perfect if the volume was louder.
I've been looking for a timer for my home gym for quite some time. This one has everything I was looking for and the possibility to use it on batteries and use my phone as the remote is brilliant. Sadly the volume is not loud enough to be hearable over the music playing or when using the assault bike. Hopefully the software can be updated trough the app to fix this.
Date published: 2019-12-13
Rated

3

out of

5
by
Sinjin
from
Ok but disappointed
Ok this is the first Rogue product I have gotten that disappointed. First it functions, so far it works. My issues with this are with build quality, for this price would expect something a bit more solid state. The one button feels like it's broken. The made in China sticker loses a star on principle alone. I have bought ALOT of rogue gear over the years, this is the first I would not recommend. It will do for now but I am waiting for this thing to fail, something I have never had to worry about with ROGUE in the past.
Date published: 2019-12-08
Rated

4

out of

5
by
jpresto23
from
Home Timer
I recently purchased the timer and really have enjoyed using it! It has a really cool feature of using your phone to set the timer through the Rogue App. Has every type of function you would need for most workouts. Only issue I have had is the battery runs down very quick, but if you can hide the plug you can leave it plugged in.
Date published: 2019-12-14
Rated

5

out of

5
by
WillL29
from
Great bit of kit
Bought this as my gym has no power sockets so needed something small and portable. Works great and fully portable. Bluetooth to my phone means no need to worry about losing a remote and everything is simple and easy to use.
Date published: 2020-01-05
Rated

5

out of

5
by
dbug562
from
Awesome Home Timer
Bought this home timer a few weeks ago and love it. The display is bright and having the option for use of rechargeable batteries or a plug in is nice. The app is a nice touch! Great product
Date published: 2019-12-12
Rated

4

out of

5
by
Matt8
from
Good timer, with some drawbacks
I went back and forth between 3 or 4 stars. I think it's a solid 3.5. I have a GymNext product so this is a bit of a comparison between the two. Rogue timer: Pros: -Portable -- this is the reason I bought this timer! It can be unplugged and quickly taken outside or wherever else you want it -Comes with a physical remote -- no need to use your phone as the remote unless you want to -Compact, solid feeling design Cons: -Buzzer volume is quiet and doesn't play through bluetooth (the GymNext app runs the timer on the phone and displays on the clock, so the countdowns play through the speaker) -The app is just a phone-version of the remote. I was expecting an actual timer app like the Flex Timer used with GymNext products. -Setting up a timer is not super intuitive -- but the instructions are easy to follow, and the app has a "guide" mode where it walks you through the steps. If you're not using all modes of this timer regularly, you will need to use the guide or instructions to set a new timer mode a decent amount of the time. Not too cumbersome, just not ideal. -Difficult to see in direct sunlight (but if you turn it so the display is not being hit by the sun, it's readble) -No ability that I can see to connect multiple timers together (not an issue for me, but might be for some) Overall, I am keeping the timer and getting rid of the GymNext product. But, it's not a no-brainer. If the GymNext were portable, I would much prefer that product due to ease of use of its app and its loud buzzer / sound through bluetooth.
Date published: 2020-01-04