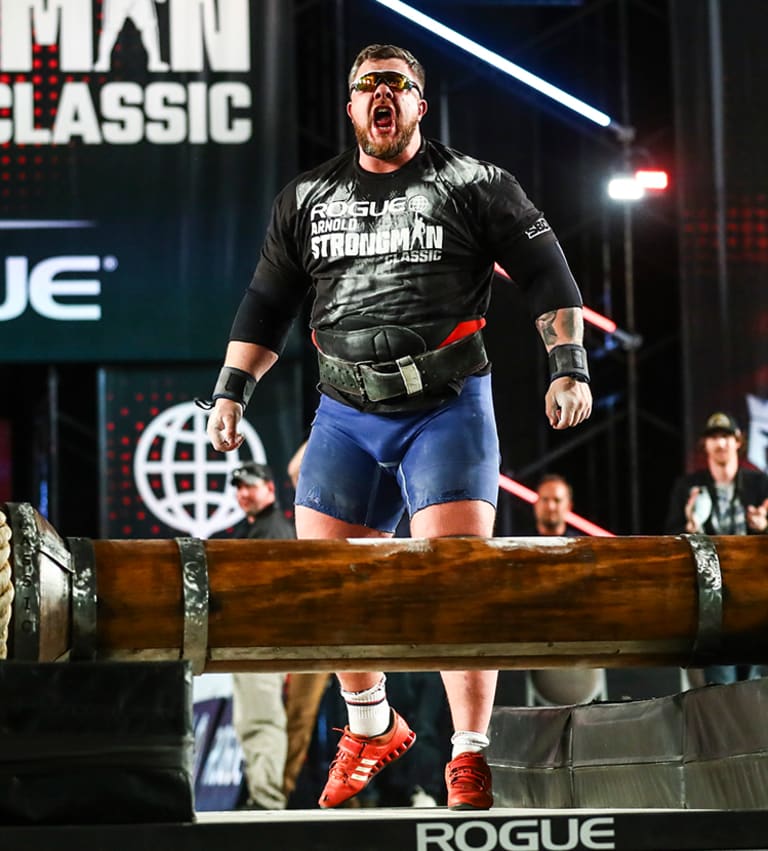 EVENT 1: THE WHEEL OF PAIN
11:00AM, Friday March 3rd
Wheel of Pain is the largest implement ever constructed specifically for a Strongman competition, weighing 20,000 LBS and standing 21 feet tall x 36 feet in diameter. In the challenge itself, each athlete must push the merciless wheel as far as they can in 60 seconds.
EVENT 2: AUSTRIAN OAK LOG PRESS
1:40PM, Friday March 3rd
An Arnold Strongman Classic favorite, the Austrian Oak returns again this year. Each athlete will have three attempts to establish their max weight. Starting log weight TBD.
EVENT 3: ROGUE ELEPHANT BAR DEADLIFT
10:15AM, Saturday March 4th
One of Strongman's long-time signature challenges, this event has been modernized through the use of the precision-engineered, 9.5' long Rogue Elephant Bar. Each athlete gets three timed rounds (60 seconds) to establish a 1-rep max deadlift. Heaviest lift wins.
EVENT 4: STEINSTOSSEN STONE THROW
1:20PM, Saturday March 4th
Inspired by one of Switzerland's traditional Strongman challenges, this event gives each athlete 3 attempts to throw a replica Unspunnen stone (approx. 185 LBS men / 110 LBS women) into a sandpit for distance. Any throwing method can be used as long as the athlete's hands are above their waist, their feet are behind the runway board, and no more than 30 seconds expire in the run up to each throw.
EVENT 5: TIMBER CARRY
5:00PM, Saturday March 4th
Athletes must carry the 880 pound timber frame up a 35 foot ramp with a time cap of 30 seconds. Straps not permitted.